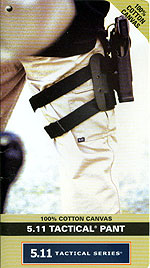 I hate to shop for clothes and don't do it often. When I do break down and buy some new duds, I usually hit one of the mail-order places. I just don't have a sense of style but do notice when others are wearing something I like.
I've been admiring Andrew's pants for some time now and recently asked where he got them. From the Missouri State Troopers Association (outlet?) store. Civilians like Andrew and I can purchase cool cop stuff like the 5.11 Tactical Pant. Although I think of them as "SWAT Britches."
Mine came in today and I'm going to wear them tomorrow. The plan is to rappel down the side of the building and crash through my office window (a la Bruce Willis).