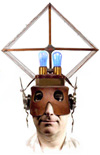 Podcasting News posts on and points to a new study from the Pew Internet & American Life Project, that highlights the fact that most Americans are not participating in blogging, podcasting or Internet media sharing sites like YouTube. While 85% of Americans use the Internet or cell phones, only 8% are what the study calls information "omnivores" – people that fully participate "in cyberspace."
The report highlights that activities like podcasting and video sharing still pose significant usability barriers for most people, that there's tremendous opportunity for people that can create better solutions for Internet media and that there's a huge untapped audience for podcasts and Internet media.
This is really good news for those of us (the report calls us "information ominvores") that know how to do some of these things.