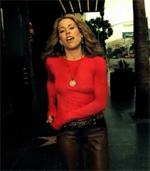 I posted a short video clip last month of some of Sheryl Crow's clothing and costumes which she donates to raise money for a childrens home in Kennett, Missouri.
What I did'nt mention (for fear of ruining the surprise) was the item I discovered hanging on a rack in a back room: a slinky top (T-shirt?) Ms. Crow wore in the Steve McQueen video. I thought that would be a cool gift for my pen-pal and Sheryl Crow uberfan, Ann.
I liberated the shirt with a donation and sent it off to Ann, who lives in Belgium. After a month held hostage in Belgian customs (the shirt, not Ann), Ann has the shirt and promises a photo.