I've been using flickr for a long time. I fell out of love for a bit after Yahoo! acquired the service and the conversion didn't go as smoothly as it might. But I've been making an effort to better understand and use flickr's many, wonderful features.
Flickr Map is hardly new but I just never got around to playing with it until last night. The short version is, you can locate a photo on a map to show precisely where sit was taken.
For example, during my affiliate relations days in Iowa, I stopped by the farm where the movie Field of Dreams was filmed. I knew the farm was near Dyersville, Iowa, but couldn't remember the exact location. So I checked Wikipedia and found the exact latitude/longitude. Plugged that into Flickr Maps and, voila! And I was able to zoom in close enough to see the shape of the ball diamond.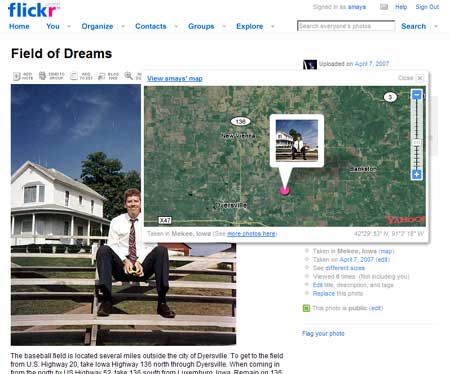 I now have about 500 photos in my Flickr account. Unfortunately, when I started saving digital images, I foolishly sized the images down (to save space). So my rez is poor on those older images. Alas.
But the organization tools on Flickr are pretty amazing. And –you knew this was coming– it works so nicely with iPhoto that uploading images is even easier than before.