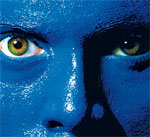 I was expecting something else. A novelty act. Three guys (there can't be only three of them) with a gimmick that was getting a bit long of tooth. What I got was the best live performance I have ever seen. (You're right. I don't go to a lot of live performances, so my "best" is suspect).
I wasn't going to post on this because this puny blog can't begin to capture the event. It was, as they say at alincoln.com, "above our poor power to add or detract." So let me just offer a few superlatives, in no particular order. The performance (Mizzou Arena) by Blue Man Group was digital, interactive, smart, hip, techno, musical, percussive, clever, tight, wired and…fun.
I grabbed a few video clips and might add them but not even IMAX could capture the PVC-pounding vibe of the live performance. Like they say, you had to be there. I'm glad I was.
Update: Audio on my video sucked but there are lots at YouTube.