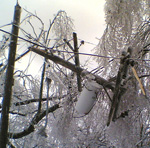 Not sure who took these but they were being emailed around and I grabbed them. I believe they were taken near Neosho in southwest Missouri.
If they're yours, let me know and I'll give you the proper credit or pull them.
The forecast calls for 3-6 inches here tonight/tomorrow. I'm wearing long underpants so I can get out of my limo any damn way I like.