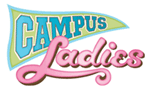 Campus Ladies follows Joan & Barri, two middle-aged best friends who decide it's better to be a freshman at 40 than unhappy housewives forever. Ditching the suburban life of minivans and malls for keg stands and co-ed dorms, Joan and Barri enroll in school in search of the wild college years they missed the first time around.
Campus Ladies is based on characters created by comediennes Carrie Aizley (Joan) and Christen Sussin (Barri) while performing with the famous comedy troupe, The Groundlings. The series is executive produced by Cheryl Hines (Curb Your Enthusiasm) and co-executive producer E. Brian Dobbins (Reno 911). Among others.
I've only recently discovered this series (Thanks, Barb) but it is "The Office" or "Seinfeld" funny, although some of that can be attributed to the greater topic-freedom of cable (Oxygen). I'm searching for the DVD of season one.