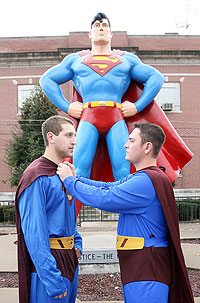 They held a little celebration in Metropolis, Illinois, to mark the release of the "Superman Returns" DVD. UPI photographer Bill Greenblatt shares this photo of one Superman "look-a-like" adjusting the cape of another Man of Steel dead-ringer.
I have to wonder if Bill was being ironic when he captioned this image with "A wooden cut-out of Superman hangs on a building as hundreds lineup for a free DVD on the release date of "Superman Returns" in Metropolis, Illinois on November 28, 2006. Metropolis is the adopted home of Superman."
The hopeless boredom on the faces of the people in line… the "Man of Plywood" missing an arm… thank you, Bill… thank you.