This is a good problem but mildly stressful nonetheless. I'm buying books faster than I can read them. Combine my need for instant gratification and low impulse control with Amazon One-Click purchasing… and you wind up with a bunch of books stacked up over Bedside International: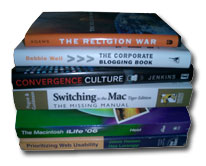 The Religion War, Scott Adams
The Corporate Blogging Book, Debbie Weil
Convergence Culture: Where Old and New Media Collide, Henry Jenkins
Switching to the Mac: The Missing Manual, David Pogue
The Macintosh iLife 06, Jim Heid
Prioritizing Web Usability, Jakob Nielsen & Hoa Loranger
Rainbows End, Vernor Vinge
Non-fiction is outpacing fiction by more than 2-to-1 and that's what's causing the backlog. But I'll get to and through them all in time.