Corrections Today Magazine ("Official Publican of the American Correctional Association") is really pretty interesting reading. The copy I browsed included articles such as: "Jail Time Is Learning Time"; "Reducing Risk and Responding to Mental Health Needs"; and "Use of Force: The Correlation Between Law Enforcement and Clinical Care." But the ads were even more interesting. My favorite was one for Keefe Group ("Everything you need for your commissary!").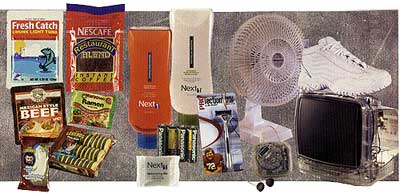 If you can't hop in the pick-up and run down the the Quick Shop, where do you get the things you need to make a cell a little more liveable? The prison commissary. The coffee and snacks make sense. And if you don't have AC, an electric fan moves up the appliance ladder. The corrections officers like the idea of see-through TV's and MP3 players (?)… but what's the deal on the moisturizing bar? And I seem to recall reading something about status associated with pristine white athletic shoes (stepping on a guys shoes can get you killed).
Right and wrong aside, I don't do the crime… 'cause I can't do the time.