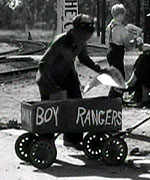 Long-time readers might recall I'm fond of Frank Capra's Mr. Smith Goes to Washington. It makes me nostalgic for a time and a government that probably never existed. Usually leaves me depressed because it reminds me how venal our real-life congressmen are. But I'm feeling more hopeful after last night's viewing.
There's a scene (watch video) where corrupt businessman Jim Taylor (Edward Arnold) gets on the phone (video) to order his henchmen to do whatever it takes to control the media and spin the story of Jefferson Smith's (Jimmy Stewart) filibuster. Jim, you see, owns all of the media.
The good guys mobilize an army of kids (Boy Rangers) to get the truth out. So the bad guys start roughing up the kids, busting up their printing presses and grabbing all of their newspapers.
I'm not sure we have any Jefferson Smith's in 2006 but if we did, his army of Boy Rangers would have MySpace pages and blogs and they'd be texting The Truth far and wide. The thugs would be all over Flickr and You Tube.
Hold on! Can we remake Mr. Smith Goes to Washington and give it a digital spin? This sounds like a job for Mr. Steve's Screenwriters of the Purple Sage.