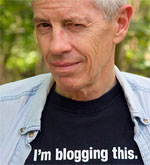 I'll explain the provocative headline, but first, a few words about smays. I don't photograph well. Too much gum showing (or none). More grimace than smile. But I'm not self-conscious about it, as evidenced by the frequent images here at smays.com. Then, every once in a while, someone takes a photo that I really like. Henry took this shot and it nicely reflects my mental image of myself. Sort of "Keith Richards-without-the-guitar-or-the-money." It's probably as simple as: good photographers see things differently than the rest of us.
Speaking of really good photographers. One of the people working with Henry and Bernard on the tree house project is their long-time friend Nick Kelsh. I thought he was just a sweaty, middle-aged guy yelling instructions at me down on the ground. In fact, Nick is a nationally prominent photographer, co-founder of a successful Philadelphia design firm and the author of eight or nine books. What Nick is not, is self-conscious. This is what Nick called his "gay porn" pose, chosen to showcase his improvised safety harness. Nick's son, who was on the ground with me, seemed neither embarrassed nor surprised, leaving one to wonder if this was the first time Nick has done this sort of thing.
When I grow up, I want to have friends like Nick and Bernard.