Christopher Garbacz (Professor of Economics @ Mizzou) business card
15 yards of Butler dental floss
Iodized salt packet
Free medium drink coupon from Hardees (Expiration date Sept. 1996)
Cut-up American Express card
3-cent postage stamp
Children's Miracle Network pledge card (dated June 1989)
Unused "I voted" sticker
Illinois & Baltic Ave stickers from McDonald's Monopoly game
A) Worst-case survival game pieces; B) Things McGyver needs to make a bomb; C) Things found in Bob Priddy's desk after he cleaned it out.
This is an inside joke that means zip unless you know Bob Priddy and have seen his desk. Thanks to Andy Rawlings.
Bob Priddy replies: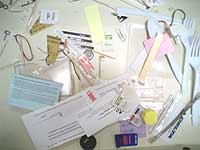 Any good archaeologist is able to take disparate remains of a culture and weave them into a coherent description of the people who once inhabited an area. The archaeologist is able to determine the approximate age of the inhabitant, the diet, the religious beliefs, and the society of his time. You did not include paper clips, which also were found in abundance and which are a valuable clue. The number of artifacts is also important, but since the site as been disturbed and the paper clips have been removed, an important piece of information will forever be open to speculation. I shall give you a few clews, however, about the person who lived there.
He was a carnivore who did not like bland diets but who took excellent care of his incisors so he could properly tear at the meat that was part of his diet. The latest artifact located is dated September, 1996, indicating that he moved from the area or perhaps died shortly after that (did you check for burial sites?). He loved children, worshipped the God John Maynard Keynes, and felt plastic was Satan's tool for a corrupt society. Now, you may build the story from there, based on the evidence you have found.