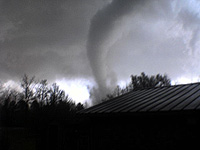 Thanks (once again) to Charles Jolliff for the local 411 on the tornadoe(s) that hit the Bootheel (and western Tennessee). Some really good images on the blog of a local TV weather guy. Not sure who took the photo above (Stephens Gin off Hwy 412). It was sent to me by several people.
I'm a little fuzzy on this but I think these pix were taken by Charles, who provided the following descriptions:
One of the images is from the theatre downtown (Kennett), looking southward down Slicer street. It's a very dark shot. Tornado was on the ground behind the neighborhood that is beside McDaniel funeral home. One of my moms neighbors (she has house in that neighborhood) told me they watched the tornado on the ground for a long time. It actually was just north of Scobeyville down old 25 highway and then headed east crossing Johnson Island road before hitting Braggadocia (1 woman dead there) then hitting Deering, then Caruthersville before crossing the river into Dyer county Tennessee.

The neighbor of my moms told me that it was two tornados that were dancing back and forth that they saw, till it combined and got bigger. Marmaduke, Arkansas got hit hard. Over half the homes destroyed or badly damaged, according to news reports. I drove through (Highway 49 was closed till noon today to clear the road of debris) late this evening but could not stop, traffic was incredible. I suppose a lot of folks were sight-seeing or looky-looing. I had the camera and just guessed on the shots in my album link. All taken from a rolling/driving truck by a guy not looking.

While all this was going on in this area, another violent storm hit Wynne Ar, and destroyed several homes including 3 that belonged to some of my racing friends. Totalled their race cars as well. All in all, everyone in Kennett is very lucky, if this thing had come up a mile and a half, it would have gone thru this little town like the proverbial hot knife thru butter.
This brings back vivid memories of crouching in a dark, dank "storm cellar," just like the one in Wizard of Oz.