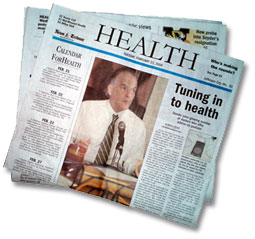 The local newspaper did a nice feature story on The Living Healthy Podcast, complete with some nice pix of Dr. Domke and his Faithful Indian Companion. The sub-head ("Domke joins growing number of doctors who offer advice via podcast") seemed like a bit of a stretch. I'm unaware of any physicians in mid-Missouri who are podcasting. In fact, if you know of any podcasting docs anywhere in the state, send me a link.
The reporter who wrote the piece, Natalie Fieleke, was trying to find something of a trend here and had to reach a bit to find any medical podcasts (Johns Hopkins, Arizona Heart Institute, Mayo Clinic, etc). But that's okay. I think Henry is just early to the dance on this. As of this posting, it doesn't appear the article is on the News Tribune website. If I find it, I'll add a link.
The goal of our little podcast is to provide information to Dr. Domke's patients (and others) and a little MSM pub can't hurt. Thank you, Natalie.