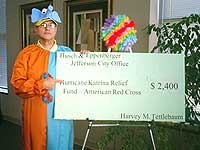 The firm where Barb works had a fund-raiser today for the hurricane relief effort. Her boss, prominent attorney and fun guy Harvey Tettlebaum, agreed to wear a clown suit if they raised $2,400.
And everyone in my department at Learfield Communications received this email late this afternoon from our chief financial officer:
I've scheduled an off-site meeting the afternoon of September 14 at Clyde's (our CEO) house. This is a very important meeting and I expect you all to attend if you can. We will watch the movie "Office Space" and drink beer. Please mark your calendars.