I gave some serious thought to purchasing an iPod or similar digital audio device. But the buggers cost $300-400 and I didn't want to pay that much. And I don't have 10,000 mp3 files, anyway. But I have started downloading and listening to interviews from IT Conversations.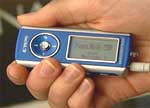 Listening to these on my laptop was somewhat limiting so I sprung for a SanDisk Digital Music Player. This little gem has 512 meg of (flash) storage and will play for 15 hours on a single AAA battery. It was on sale at Best Buy for about $120 and I can take it back if I don't like it.
So when would you use a device like this? Today I went to see National Treasure and got there about 15 minutes before the movie began. Popped in my ear-buds and listened to the first part of a talk by Richard Florida (The Rise of the Creative Class).
It got me thinking again about this whole podcasting thing. The stuff I'm interested in will never be broadcast on a traditional radio station. Or, if it is, I'm unlikely to know about it or pick up that station. But the IT Conversations website has hundreds of hours of content that I'm very interested in. And I can go and get it whenever I want. And listen to it whenever and where ever I want.
Radio programmers have always been about trying to find the right combination of music, news, talk, whatever… that would appeal to the greatest number of people within their coverage area. Lowest common denominator. That doesn't work for me anymore. I want to listen to what I'm interested in. When I want to listen to it. Where ever I might be. The web makes this possible.