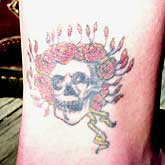 Barb had a little cook-out yesterday. Lawyers, paralegals, support staff… sitting around on the deck eating chicken wings and drinking beer. I noticed that one of the associates had a Grateful Dead tattoo on her ankle. I beleive she said she got it on a trip to London. I started wondering if a lot of lawyers had tattoos. While I couldn't find any hard data, I did find "What are lawyers wearing under their briefs? The long-awaited American Jurist skin issue!" on the American Univesity Washington College of Law site.
While Googling around for tattooed lawyers, I came across Tattoos.com and spent a few minutes looking at celebrity tattoos where I learned that Sean Penn has (had?) a Madonna tattoo. Had Angelina Jolie called Sean, he might have talked her out of the "Billy Bob" number. Why would anyone with a prenuptial agreement think they're committed enough for a tattoo?
Mike Tyson has Mao's face on his right arm and a picture of his frist trainer –Cus D'amato– on his left arm with the words Days of Grace above. Don't you just know there is a good story behind Mike getting that Mao tattoo? Did Mike ask the tattooist, "Let me thee thum revelutionary leaderths."?
Mario Van Pebbles chose to have "Cut on dotted line" tattooed on his neck. When you're shit-faced, everything is funny.
I expected to see more cartoon character tattoos but didn't find them on Tattoos.com. One more Google search found George Reiger, the self-proclaimed "No. 1 Walt Disney fan" who has 844 Disney tattoos, including 103 Dalmations on his back ("We were in a rush and lost count."). Roger also has Pinocchio's whale on his stomach and Snow White graces his shoulder blades.
In a few years, a lot of folks in nursing homes will have tattoos, an endless source of amusement for the staff. "I'm here for your sponge bath Mr. Tyson. Oh, I see you have a Mao Tse-tung tattoo. We're you member of the Chinese Communist Party? Okay, turn over."
I did see one tattoo that I thought might be fun, timeless and practical.