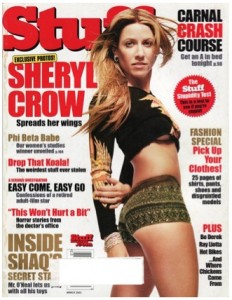 A co-worker recently gave me a copy of Stuff Magazine. I'd never heard of Stuff and he explained "it's sort of like Playboy but everyone keeps their clothes on." He thought I'd be interested in this issue (March, I think) because Sheryl Crow as on the cover and there was a nice group of photos on the inside.
Like me, Crow grew up in Kennett, Missouri, a small town in southeast Missouri. Aside from the Kennett connection, Crow looked extremely hot in the Stuff layout. She just turned 40 and decided it might be fun to do some cheese cake.
People from Kennett are understandably proud of Sheryl Crow. She is, without a doubt, the most famous person to call our little town home. I should point out that I do not know Sheryl Crow. I'm 14 years older and our paths never crossed.
But I share the community pride. And something more than pride. I mean, here's a Kennett girl that saw movies at the Palace Theatre (just like me)… probably sat in Ms. Mitchell's algebra classroom (just like me)… went to dances at the American Legion Building (just like me)… standing next to Bob Dylan. Having a beer with Keith Richards.
That's just… that's just too much to get my mind around. That somehow creates a connection between the very real (and small) world in which I grew up… with a fictional world filled with the icons of my youth. It ramps up the "six degrees of separation" thing to an impossible level (my wife went to church with a woman that parties with Bob Dylan). That's just too damned close.
But if it's disorienting for me, someone that doesn't know Sheryl Crow, what must it be like for some guy that took her to the high school prom? Or gave her first good-night kiss after a car-date? I mean, you're watching the Grammy's and turn to your friends and say, "Great song, but she wasn't much of a kisser in high school." There ought to be some kind of support group for people that were close friends with those that went on to real fame.
"Hi, my name is Steve. I used to beat the shit out of Tom Cruise every afternoon in junior high."
"Believe it or not, Madonna was terrible at sex."
It's one thing to sit next to some big star on the plane ("You'll never guess who I met on the way out?")… but to know that Fate took the geeky kid from your civics class and made him rich and famous, well, that's too much.
I'm really glad I don't know (didn't know) Sheryl Crow. I'm glad she came from my hometown, but it would be too hard to have known her. And liked her. I wonder how many calls or letters Crow gets from her old chums.
"Hi, Sheryl. This Janice Linmeister… from Kennett! We took Home Ec together. Yeah, that's right, but I've gained some weight since then. Listen, Leroy and me and the kids are coming out to L-A and we'd love to stop by and say hello. Maybe we could go out and get some beers, you know, like old times."
(Shudder) No, I don't think Sheryl Crow gets many of those. I hope not. For me, she's more real on the front of the Style section of USA TODAY, having a Heineken with Bob-Fucking-Dylan. Or performing before a world-wide audience on the Grammy's. That's the only place I've ever known her. But she's from Kennett. Just like me.
PS: If I did know Sheryl Crow, I'd ask her to record a new version of Kennett's official song. This one is really old and who better to re-do it?